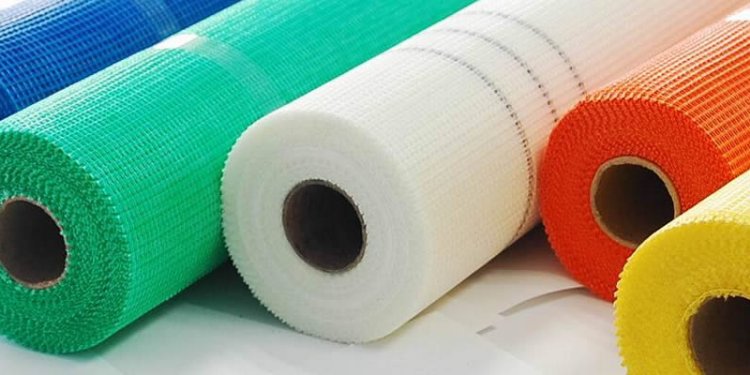 Fiberglass Windows Sun Screen Roll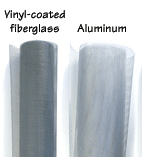 Expert, unbiased advice on what type of window screening to buy for your region and climate
Perhaps Ogden Nash put it best: "God in His wisdom made the fly… And then forgot to tell us why." Just when the outdoor temperatures grow pleasant enough for us to leave doors and windows open, squadrons of buzzing bugs bring on their assault. Fortunately, insect screening is an effective countermeasure that allows us to maintain an open-door policy.
Screening has come a long way from the bug barriers woven from horse hair a century ago. Following modification of textile looms in the 1920s, galvanized steel screening became common in homes. It protected doors and windows for decades, but, because steel wire has a tendency to rust over time, it eventually gave way to a non-rusting alternative—aluminum.
Today, aluminum—and newer vinyl-coated fiberglass—are by far the most common screening materials used. Of the two, vinyl-coated fiberglass outsells aluminum 3 to 1 because it's about half the price. Other than price, there isn't much difference between the two. Historic preference plays a big role in whether people choose one over the other. In certain parts of the country, people prefer aluminum; in others, they choose vinyl-coated fiberglass.
Fiberglass Window Screening
Vinyl-coated fiberglass, the most popular screen fabric material, doesn't corrode, rust, or stain, but it will stretch and it tears more easily than aluminum.
A spokesperson at Phifer Wire Products, one of the country's largest screen manufacturers, explains the process: "We start with raw spun-glass filament and apply a vinyl (PVC) coating, producing remarkably strong single strands that are typically .011 mil for window screening and .013 mil for pool enclosures, patio rooms, and some door screening." This screening is available in silver gray, dark gray, and aquamarine; silver gray and dark gray are the most popular.
In addition to the conventional 18-by-16 mesh, you can buy 18 by 14 for pool enclosures, porches, and the like. You can even buy 20-by-20 mesh, a very tight weave that stops tiny insects such as no-see-ums, but it does cut down on light transmission and breezes.
Solar or "sun" screen is also made from vinyl-coated fiberglass. Used for both window and door screening and patio, porch, and pool enclosures, this tightly woven material can be a dramatic energy saver.
The newest development in the past decade, solar screening blocks heat gain, thereby reducing your air conditioning load, and keeps furniture and carpeting from fading. But, in return, you give up about 30 percent of light. The newest type offers a whopping 90 percent shading.
During the daytime, solar screen appears almost opaque from the outside but offers good visibility from inside. Five colors are available: charcoal, bronze, dark bronze, silver gray, and gold. Charcoal and silver gray are the most commonly used.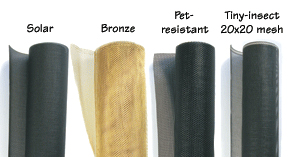 Fiberglass screening is available in the same sizes as aluminum and up to 84 inches wide. Do-it-yourself rolls of sun screening run 30 by 60 inches, 36 by 60 inches, 36 by 84 inches, and 48 by 84 inches. In addition, you can buy 100-foot-long rolls in varying widths. Price runs from 15 to 25 cents per square foot.
Aluminum Window Screening
Aluminum screening is a rugged, metal mesh. To make the fabric, a 3/8-inch-diameter aluminum rod is drawn out to a .011-mil wire. The manufacturer winds this wire on a master bobbin, loads the bobbin onto a modified loom, and starts the machine weaving.
Once the screen fabric is woven, it's given a finish. Aluminum screen fabric typically comes in three colors: black, dark gray, and bright aluminum. Black is least noticeable from inside the house (the darker the color, the better the outward visibility in most cases, because darker colors have less light reflectance and glare). Dark gray is made to complement painted window-and-frame systems. Although bright aluminum looks like raw aluminum, it has a clear coating that helps maintain the material's sheen.
Aluminum window screening is made as an 18-by-16 mesh. This simply means that there are 18 horizontal and 16 vertical "yarns" (or wires) per square inch. This type of screening is typically available in do-it-yourself rolls that are 7 or 25 feet long and 24, 28, 30, 32, 36, and 48 inches wide. Longer 100-foot rolls are available in additional widths, including 18, 20, 22, 26, 34, 42, 54, 70, and 72 inches. Price runs in the area of 30 to 35 cents per square foot.
Specialty Window Screening
Several types of screening are made for specialty purposes. Here is a look at the main ones:
Solar Screening
Solar screen comes in a white fabric where six horizontal strands are grouped together as bands. This 57-by-16 mesh is used primarily as an interior roller shade—it has good visibility away from the window but is a little distorted closer up because of the woven bands. A similar aluminum product, Phifer ShadeScreen, has tiny open louvers that block most direct sunlight but allow good outward visibility. This comes only in black and costs about $1.50 per square foot.
Share this article
Related Posts