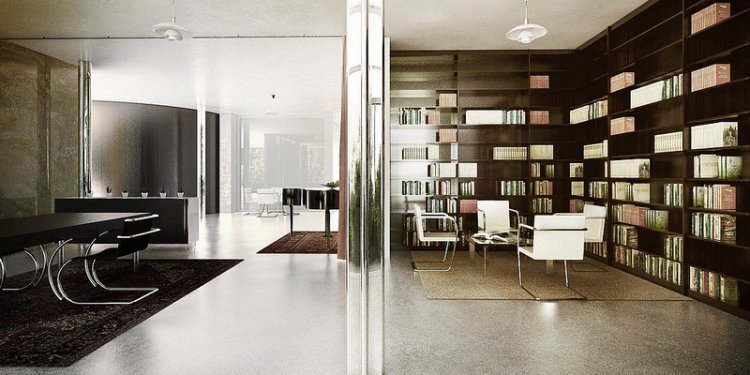 Invisible Windows Sun Screen Material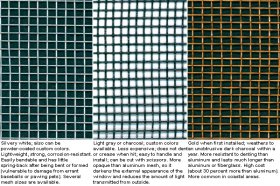 Sun and wind give screens a beating — my backyard gazebo is standing proof. A dozen years after I built the Japanese-teahouse-style structure, which has five large windows, the fiberglass screening has been destroyed by the UV rays and strong Kansas winds.
When I shopped for replacement screens at local home centers, I found the same products that were available in 1995: silver, gray or black aluminum screening and gray or black fiberglass (photo below). Either type will keep bugs at bay, but I knew that several companies had created innovative new screening systems, so I decided to do some investigating. Here's a look at the latest ways to bar bugs, reduce glare and enhance your view from the inside and out.
Screen with a view
Any tight-mesh screen (metal or synthetic) will block insects, but these products also tend to obscure your view. To solve that problem, two manufacturers have introduced screening that is virtually invisible.
Gore Transparent Screen Fabric for windows and doors, made by W.L. Gore & Associates Inc. (of Gore-Tex fame) is available exclusively through Pella Corp. Marketing the product as Pella Vivid-View screens, the manufacturer touts these advantages:
More natural light transmission (50 percent more light) and a crisper, less obscured view
Better ventilation(as much as three times the airflow), providing a greater cooling effect and helping to reduce energy use
Enhanced exterior appearance
Effective insect blocking (holes are the same size as in conventional screens)
Resistance to denting, chalking and hazing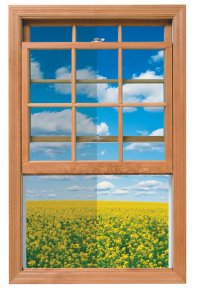 Some of Pella's double-hung, casement and awning windows feature Vivid-View screens, which are designed to maximize light transmission and airflow while still blocking bugs.
Another alternative, Andersen Windows' TruScene insect screening, is a nearly imperceptible stainless steel material. It offers a clearer view and greater airflow than traditional screening, and it's less visible from outside the home. It comes in a variety of colors and finishes to blend with the surrounding windows.
Andersen 400 series windows come with TruScene screening, a nearly invisible mesh of stainless steel that's available in a variety of colors and finishes.
Innovative applications
These types of screen fabrics are typically installed on standard-size windows and doors. But what about the oversize door and window openings found on so many upscale homes? Grand double-entry doors would look ridiculous with a huge swinging screen door. And consider common casement windows: They're typically fitted with screens on the inside; but why obscure the view if there are no bugs to block?
One solution is a retractable screen that is mounted on one or both sides of a door or window and stored in a compact, low-profile housing. When needed, the screens easily pull out and magnetically lock in place. After use, the screens retract into their protective housings, where they remain hidden until the next time they're needed. Some even operate by remote control. Several companies now offer these screens, some for DIY installation and others that must be professionally installed.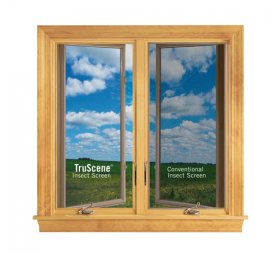 Besides protecting living areas, these screens are a perfect answer for porches, patios and verandas. Retractable screens can be installed in the inside or outside of a door or window and oriented so that they retract sideways or up. Various screen-fabric options and colors are available, ranging from nearly invisible types to darker, glare-blocking versions.
Install a retractable screen, such as the one shown here from ODL Inc., in an entry doorway to hide and also protect the screening from traffic when not in use.
Screen test
Specialized sun-control screens can really help to cut cooling costs, as I've learned from experience. When my wife and I lived in a house that had a 12-ft.-wide west-facing picture window, the summer sun made the air conditioner run constantly in the afternoon and evening. After ruling out heavy drapes (which would darken the room and trap the heat against the window) and shade trees (which would take years to grow), we decided to install a fiberglass screen designed to block as much as 70 percent of the sun's heat and glare. The product also allowed us to open the casement windows for airflow while still blocking insects.
To determine the effectiveness of the screening, I conducted a test: On two hot, cloudless summer days, I turned off the central air conditioner until the sun had set. (My cats were not happy.) On day one I tracked the temperature in the living room with the screens removed. The next day, with the screens in place, the room was 12 degrees cooler. As an added benefit, the screen offered privacy from the outside, yet it didn't interfere with our view from the inside.
This solar screening blocks as much as 90 percent of the sun's heat and glare while improving daytime privacy and allowing natural ventilation.
If you live with pets, consider a specialty screen that holds up against paws and claws. The mesh is a heavier gauge, so it is visible, but keeping the screen intact is a fair tradeoff. You can order claw-resistant screening through a hardware store or online.
Specialty paw-resistant screening, such as the one shown from Phifer Incf., is made of heavy-duty vinyl-coated material that resists tears and dents.
Whether your priority is insect control, durability, sun blockage, privacy or any combination of these benefits, today's screen solutions have your needs covered. You don't need to settle for the limited selection at your local home center; check out manufacturers' Web sites to find innovative products that will make your summertime living a breeze.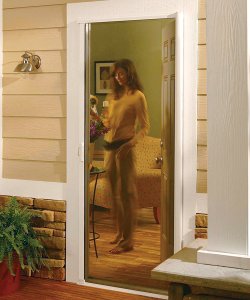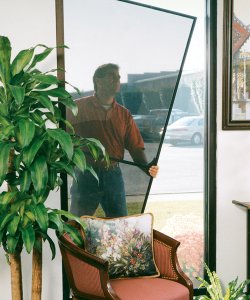 Share this article
Related Posts