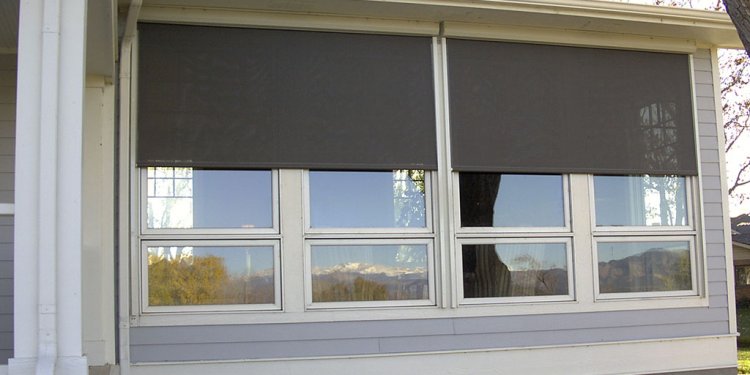 Exterior Sun Screen for Windows
Coolaroo Solar Outdoor Shades shield patios and windows from the heat of the sun. Their ability to block UV rays helps protect your furniture and floors, cool off your home and convert outdoor patios into livable spaces—even during the hottest of months. These exterior shades are available in a beautiful array of textured solids and patterns of various scales. A light-filtering knit or woven fabric construction enables them to significantly reduce glare without darkening a room's interior.
Coolaroo Solar Outdoor Shades are built to withstand the elements. They are made from weather-resistant fabric and components, which make them fade, mold and mildew resistant, as well as easy to clean. A smooth-action roller-clutch mechanism gives them a smooth, even roll. Color-matched cords standard.
Install Time: 20-25 minutes
We Recommend:
Choose from a crank lift or a continuous cord loop for easier operation.
Shades are available as both wall and ceiling mounts. Stainless steel tie-downs help secure the shade in position.
Double cooling factor that allows air to flow while providing superior UV protection makes this shade great for windows that receive afternoon sun.
An Exterior Full Valance is a premium full valance to fully enclose your shade when not in use. It is easy to install with no assembly required. It comes with color coordinated hardware and end caps. Please note, it is required with motorization.
Exterior Contemporary Valances are a modern look to keep your shade clean and protected from the elements. It comes with color coordinated hardware and end caps. Assembly is required to install this option.
Considerations:
If you plan on installing your shade between 2 vertical posts, you will need to deduct at least 1/8" off your measurement.
Patterns run vertically unless a shade's length is over 96". If a shade's length is over 96", the pattern's direction will be horizontal.
Roller tube will be exposed 1/4" to 1/2" to prevent material from telescoping.
Fabrics:
Fabric Name | Openness Factor:
Urban Life | 92% UV Block
Brisbane | 80% UV Block
Melbourne | 92% UV Block
Outback 90 | 90% UV Block
Outback 95 | 95% UV Block
Outback Deco | 85% UV Block
Rural Vista | 95% UV Block
Beachside | 92% UV Block
Child Safety Information:
This product can be made safer for places where children and pets may be present, with the selection of the crank upgrade. All other versions of this product have cords that may be accessible, and are not recommended for windows where children or pets may be present.
See also:
Share this article
Related Posts